13 07 2009
How do I know if my Blackberry is Unlocked?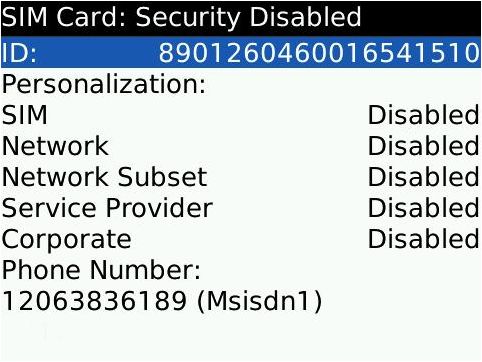 Cellfservices has had some customers purchase an unlock code only to find out that their phone is already unlocked.  We would like to clarify that there are 2 methods to see if your phone is unlocked.
The easiest method for Blackberry users is to do the following…
1.) Go to Options
2.) Advanced Options (If you don't see this entry: Device>Advanced System Settings)
3.) SIM Card
4.) Type MEPD.  (You will not see any text appear) — Here you will see a list like the above image.
Normally, all categories are listed as "Disabled" except the Network Category.   If your phone is unlocked, it will say Disabled or Inactive beside the Network category.  This means your phone is already unlocked :).  Before you decide if you want to unlock your BlackBerry, you should also check to see if your BlackBerry is hard locked.  With hard locked BlackBerry phones, even with a correct code, you will not be able to enter in the unlock code.
The best and fool proof way for all phones is to put a SIM card into the phone that is not locked to the same carrier.  (Ex. Put an AT&T SIM card into your T-mobile phone).  I'm sure you have people within your social network that are not on the same carrier.
If you've checked everything above and your phone is still locked, you can get your BlackBerry unlock code from our store.
Where do I find my Blackberry PIN? Unlock Instructions for all Motorola Phones