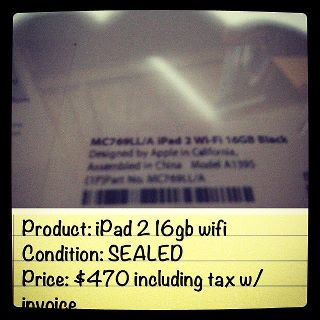 If you live in Canada, you probably share the same struggle as most of us here at Cellfservices with over-inflated everything! Why do we have to pay $1.30/L of gas when only an hour or two away, we can pump at just over a buck?
For those that live close to the border: Why is there such anticipation to go cross-border shopping on the weekend? Why is clothes half the price literally 10 minutes over the border? Is it our 5%-13% tax rate compared to their 0%-6%? Rather than busting out the books and getting into an Economics 101, we come to you with great news!
You DO NOT have to wait 295 days for Boxing Week Sales!
Cellfservices is now taking a stand – in the name of cheap electronics - to provide our Canadian friends exclusive pricing on whatever we can get our hands on! Over our years in business with Cellfservices, we have been able to solidify relationships with preferred vendors who are able to provide various consumer electronics at more than fair prices! Rather than sending out mass e-mails with our updated stock lists to over 500,000 Cellfservices customers & subscribers, we have found a less obtrusive way to provide these offers to those in the Great White North!
Stock pictures will be posted on Instagram to those who own an iOS device like the picture above. You can follow us at @cellfservices for instant feeds directly to your Instagram!
All pictures from Instagram will be posted directly to our Twitter page and Facebook page. If you want to stay up to date, follow us on Twitter or click the like button on our Facebook page for the latest updates.
Benefits to our Cheap Electronics Program
All pictures posted on Instagram, Facebook and/or Twitter are products we have in stock.
Typically $60-$300 off MSRP on all electronics sold!
Tax write-offs for business owners. GST/HST number provided on invoices
Local pickup available in the Greater Toronto Area
Shipping available to non-GTA customers at our discounted shipping rates. Shipping through Fedex or Canada Post.
All products shipped from Ontario. NO Customs and Duties Charges!
Hakuna matata – it means no worries on purchasing stolen possession! All of our products are purchased from registered businesses with proforma invoices to protect ours and your cheap electronic products!

All products posted are in our possession. No shadiness in a "give me your money so I can buy you your product and then keep 10 bucks for myself"
FAQ:
Are these items new?

99% of our products will be new. If it says SEALED,NEW,BRAND NEW, than it is New!

What is your return policy?

We accept returns on brand new items within 5 days of your purchase date. The item must be returned in its original state including packaging. Rips, tears or repackaging will not be eligible for return. Open box items will not be accepted. The serial number on the device must match that of the receipt/invoice provided to you.
We will accept items that are Dead on Arrival (DOA). You MUST contact us within 24 hours of shipment acceptance if this is the case.
Local customers are welcome to open boxes in front of us before leaving.
Most products we sell have fantastic warranty programs. For example, Apple will replace any of their products still under warranty at any Apple Store as long as it was not damaged due to external physical causes (ie. water damage).

I work until midnight. Can we meet then?

No. We will not open our offices to the public after-hours nor will we meet you at a Tim Hortons or a dark alleyway late in the evening.
We can arrange for the item to be shipped to your address if you are unable to pick up.

I can't pick up. Which shipping service will be used?

We will use either Fedex or Canada Post.
Full insurance will be provided on the product.
Tracking numbers will be given for every shipment sent.

How much is shipping?

Shipping rates will vary depending on your location in proximity to Toronto, ON. We can provide you with shipping rates. They will range anywhere between $10-$30 depending on your location and the value of the product purchased.

Can I get a discount if I buy more?

Because our rates are already so far discounted, we are unable to provide discounts on quantity purchases.
If you are interested in a quantity purchase, we can look at making a custom order for you in the future. You must purchase with a minimum of 10 pcs.

I don't see a picture of the product I want, do you have it? Can you get it?

Because we receive so many e-mails requesting products that we don't have, we have chosen to ignore most of these. If you do not see a product on our Instagram, Facebook page or Twitter, we don't have it and will not search for it.
How to get your electronics for Cheap-o!
Please Note: The prices you see on our various social media pages are set prices and non-negotiable.
Find something you like on our Instagram, Facebook or Twitter.
If you have any general questions, please post it in the social media channel that you found our great deal on. I'm sure others can benefit from your questions!
If you're ready to purchase, send us an e-mail at support@cellfservices.com and request to arrange a pickup or shipping request.
Payment can currently be sent made by…
cash (in person)
Visa and Mastercard + 3% – [with scanned copy of a driver's license and the credit card (front and back)]
E-mail Money Transfer (EMT) made through your online banking account.
Debit card transfers will be available through local pickup by March 19, 2012 for future stock.
After receipt of payment, we will provide you an invoice and ship your item. If you will be picking up locally, you can make your payment face-to-face. We recommend E-mail money transfers be sent within 1 hour of pick-up without revealing the password to us. This will protect your funds so we cannot release them until you provide the secret password to us verbally at pick-up.
Enjoy your new electronics!
Pretty simple isn't it? So what are you waiting for? Join us on Instagram (@cellfservices), 
Facebook 
 or 
Twitter
 to see what we've got for you! We'll be posting on these channels as soon as we have more stock available for you!